Final Clip
Looks: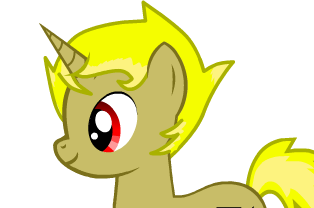 Gender:M
Age: Teenager
Race: Unicorn
Personality: Nice, Generous, Funny, Strong, Can be intensely strong when angry, Smart
History: FinalClip was born in Ponyville, and managed to raise himself on the streets. Final had very scarce food, and had to learn how to steal. He learned how to be very stealthy and when caught, he had to fight his way through. After a while, Final soon realized what he was doing was wrong, so he started to work for a general store merchant. After earning enough money, he started to buy as many spell books as he can. He suddenly had an interest in learning. While looking at his books, he quickly learned about all of the evil that lived in this world.He yearned for the day that he would become a hero for all of equestria. He dedicated his life to fighting for what he thought was right using the skills that he tought himself and learned from books.
Spells (You may start with 2:(
After-Image Attack: The user can move so fast he leaves an after-image, While attacking from another standpoint.
Kamehameha: The Kamehameha is formed when the hooves are brought to the user's side and the ki is concentrated into a single point between the hooves. The hooves are then thrust forward to shoot out a streaming, powerful beam of energy.
Starting location (choose from the front page: Ponyville
Edit: DONE

Last edited by FinalClip on Fri Mar 02, 2012 12:16 am; edited 1 time in total



Posts

: 1


Power Level

: 1500


Join date

: 2012-02-28



Once you write your history i will approve/dissaprove.
Admin




Posts

: 31


Power Level

: 2250


Join date

: 2012-02-24


Age

: 21



I'm so sorry for such a late reply! I expected you to post a reply. Anyways, happily approved!
Admin




Posts

: 31


Power Level

: 2250


Join date

: 2012-02-24


Age

: 21





Similar topics
---
Permissions in this forum:
You
cannot
reply to topics in this forum